Permanent Make-up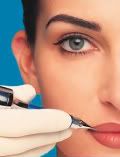 Permanent Makeup is a cosmetic tattooing procedure. It will not rub off or smear. You will look like you, only better. It can be as natural or dramatic as you want. Shape and color are collaboration between you and the makeup artist. You can be assured for your comfort, we use extremely effective numbing.
Eyebrows
Eyebrows frame your eyes. We specialize in hair stroke brows (each hair is individually tattooed).
Eye Liner
Eyeliner makes your eyes more noticeable, look larger and makes your lashes look thicker.
Eye Shadow
A halo of color above your eye liner brings out your eye color.
Lips: Lip Liner or Full Lips
Thin, uneven or "disappearing" lips can be contoured to look thicker and more symmetrical.
Color Enhancemnet
Permanent Makeup does fade over time. A color enhancement will freshen it.
"A happy client is my best advertising!"

Anna, the owner of Angel Touch Salon, is your trained Professional Permanent Makeup Artist and uses State-of-the-Art equipment to achieve to achieve results you will love.
Please call Anna at 775-586-1885 with any questions and to schedule your makeup session.